Support & Feature Requests
Requesting Support & Features are just at your fingertips.
We do everything with our core values of honesty, hard work, and trust.
Detailed below are the policies which are meant to provide a framework for an effective and productive relationship with our customers. These policies are subject to change at ins-pi GmbH's ("Vendor") sole discretion.
For customers, partners, and distributors ("Customer") who have active software product ("APP") subscriptions licensed from Vendor, 3rd level support services are available.
Customers who request professional services e.g. enablement and configuration services should directly contact their Vendor project team. Especially during the initial enablement project, it is highly recommended to directly work with the professional services team.
Engaging with Technical Support
Limited customer support is available during the hours provided by Vendor:
Prior to logging an incident
Before logging an incident, we recommend completing the steps below to ensure high quality support:
Verify that the issue is with Vendor APP(s) and not a third-party software, or related to the ServiceNow platform

Verify that the system is using a currently supported version of the Vendor App

Check newer releases of the APP and preferably install latest update

Ensure that you have installed the latest ServiceNow platform patches

Clean your browser cache and try to reproduce the issue

Attempt to reproduce the issue and determine if it occurs consistently

Go to

HERE

and request an account, if you do not have one
Issue Resolve Process
You may notify Vendor if the APP is not performing in accordance with the APP User Guide. Contact Customer internal 1st or 2nd level support, in case of issues not directly related to the APP. ServiceNow will notify Vendor if the issue lies with the APP and in that event the Vendor shall comply with the response and resolution times above. The support is restricted to 3rd level APP inquiries only: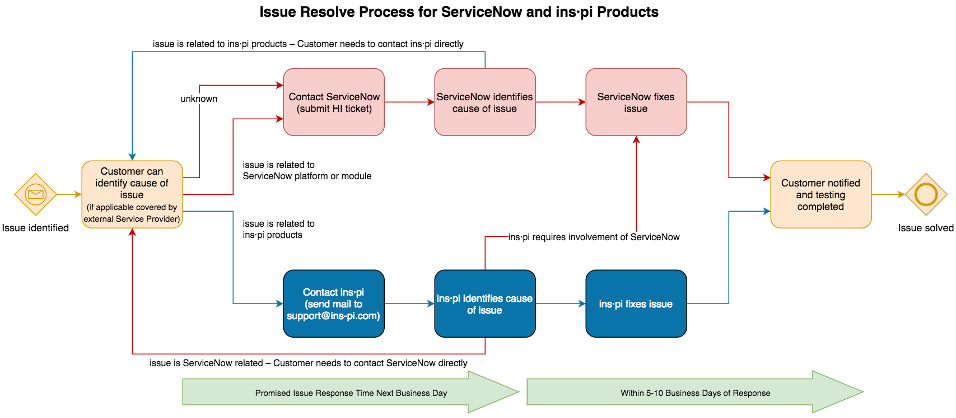 Procedure for obtaining technical support ("Logging a case")
To obtain technical support from Vendor, Customer is responsible for complying with the following procedure:
APP user finds an Application-related issue and reports it to Customer 1st and 2nd level support.

Customer 2nd level contact takes ownership of the issue and attempts to find a timely solution, identifies the nature of the issue, including eliminating customer network, ServiceNow platform and non-Vendor Application, plugins and configurations outside of the Application scope as a possible issue cause.

Customer 2nd level contact reproduces the error if possible and document the steps needed to do so.

Customer 2nd level contact is unable to resolve the issue, contact activates technical support by logging a case, using one of the Vendor Contact procedures described above to provide the Application Handle, events that led up to the issue, the issue description, and your assessment of business impact of the issue.

Customer 2nd level contact describes to the Vendor the parameters, procedures and conditions resulting from the issue in sufficient detail to permit the Vendor to isolate the cause of the issue and commits appropriate resources to help isolating the issue.

Customer 2nd level provides the Vendor with all data files, configuration and system access and sufficient rights, together with remote access, reasonably believed necessary by the Vendor to reproduce and analyze the issue. If the issue cannot be reproduced, no further action will be taken by Vendor.
Vendor will record delays. The cases below will not be counted in elapsed time:
Excessive delay in testing or deploying a proposed solution due to Customer or Customer resource constraints.

Delay in supplying sufficient information by Customer to commence or continue issue resolution.

Not being able to remotely access Customer System to resolve an issue.

If, with Customer agreement a fix is deferred to a later patch release; or a temporary fix is in place, the time to deliver the permanent fix is not included.
SERVICE EXCLUSIONS
APP Subscription and Support Services do not include:
Installation, update or upgrade.

Program development, coding, isolation of coding issues.

Assistance to or consulting or implementation of Customer APP on the System

Customization of Vendor tools or integration of Vendor tools with Customer systems

Data recovery services are not included as part of the Services, regardless of the cause of data loss

Admin or user training.

Support services are not a substitute for any formal education course and training. Vendor and Customer may plan and implement a training program to train Customer Contacts, System administrators and users on the current revision of the APP.

Decommissioning and disposal of APP configuration is not included as part of the Services.

Support Services do not include onsite assistance.
Vendor shall not be obligated to provide Support Services if defects are caused by or related to the following:
Customer mishandling, abuse, misuse, or use of the APP other than in accordance with Vendor's operating instructions;

Use of the APP with other software or ServiceNow releases that was not expressly specified in writing by Vendor as suited for use with the APP;

changes to Customer environment, in which the APP was provided;

actions or omissions of persons other than Vendor;

repair of APP by someone other than Vendor;

failure to implement all APP Updates, APP Releases, and other new upgrades and configuration changes of the APP made available to Customer (provided, for the avoidance of doubt, that Vendor is not obligated to make available any minimum number of such new upgrades); or

Force Majeure conditions.

APP that has been modified by someone other than Vendor, unless such modifications were directed or approved by Vendor in writing and made in strict conformance with all specifications and instructions provided by Vendor in such writing;

APP that Vendor modified in accordance with Customer request, specifications, or instructions; or third-party products.

Vendor shall not be obligated to provide Support Services, except for the (i) most recent (Major or Minor) APP Release and (ii) immediately preceding (Major or Minor) APP Release for a period of twelve (12) months following the issuance of the next Major or Minor APP Release, and only when used with Vendor specified configurations and Vendor recommended ServiceNow releases and internet browser versions. Vendor shall have no obligation to provide Services for any Software e.g. Chrome that has been superseded by a current release more than twelve (12) months prior to the then-current date.