Terms & Conditions
Here are the general terms and conditions ("T&C")
for our applications Designer & UPM-X.
ins-pi GmbH ("Vendor") is only willing to provide the application(s) Designer and/or UPM-X to Customer "You" on the condition that you accept all of the terms contained in this agreement.
ANY CHANGES TO THE STANDARD TERMS AND CONDITIONS ("T&C") WILL CAUSE ADDITIONAL PRICE INCREASE.
VENDOR APPLICATIONS DESIGNER AND/OR UPM-X ("APP") ARE SOLELY INTENDED AND LICENSED FOR USE WITH SERVICENOW® HOSTED SOFTWARE AND SERVICES (COLLECTIVELY, "SERVICENOW PLATFORM") PROVIDED BY SERVICENOW, INC. OR ITS AFFILIATES ("SERVICENOW"). THE APP REQUIRES THE SERVICENOW PLATFORM INSTALLATION AND IS NOT RUNNING STANDALONE. SERVICENOW IS NOT RESPONSIBLE FOR (AND WILL HAVE NO LIABILITY TO YOU IN CONNECTION WITH) THE APP OR THIS AGREEMENT.
3.1 The App is protected by copyrights and other intellectual property rights. You agree that all worldwide copyright and other intellectual property rights in the App, and all copies of the App however made, are the exclusive property of Vendor and its licensors. All rights in and to the App not expressly granted to You in this Agreement are reserved by Vendor. There are no implied licenses under this Agreement.
3.2
Upon payment by You of the applicable subscription fees, the App will be enabled for Your own internal use and use by your affiliates and service providers to perform Your internal work and support Your process, during the Term (defined below), through a single authorized production instance of the ServiceNow Platform, and any number of non-productive instances associated with the production instance. Each end-user requires one Embedded Platform Runtime User License ("EPRL") per App which needs to be purchased through the Vendor as part of the App subscription. The EPRL license provides admin, edit and read rights within the App, and access to all ServiceNow core platform functionalities e.g. reporting. The license does not include a ServiceNow platform subscription, or access to other billable ServiceNow addons, or a license to administrate the platform. The license entitlement to your instances will be performed by ServiceNow after receipt of the purchase order. Access to the Now™ Platform must be separately purchased from ServiceNow. You are not entitled to delivery of a copy of the App apart from its deployment on Your authorized instances of the ServiceNow Platform.
3.3 You may not do (or permit others to do) any of the following: (a) modify, adapt, alter, translate, or create derivative works of the App, except that You may configure and customize the App solely to the extent that it is possible to do so using the features and functionalities of the ServiceNow Platform in their ordinary and intended manner; (b) merge or otherwise integrate the App with external components or other software i.e. making App part of another application, except for components of the ServiceNow Platform e.g. REST API; (c) sub-license, lease, rent, loan, assign or otherwise transfer the App or any license hereunder to any third-party; (d) host, upload, use or access the App via a time sharing, service bureau, virtualization, hosting or other remote access arrangement, except for Your authorized instance(s) of the ServiceNow Platform as hosted by ServiceNow or a Managed Service Provider ("MSP"); (e) reverse engineer, decompile or disassemble the App or otherwise attempt to derive the source code of the App except and only to the limited extent that Vendor provides such source code or that such activities are expressly permitted by applicable law notwithstanding this limitation; (f) remove, alter, or obscure any confidentiality or proprietary notices (including copyright or trademark notices) of Vendor or its suppliers on, in or displayed by the App; (g) reproduce or use the App except as expressly authorized under Section 3.2 and for backup purposes (without limiting the foregoing, You may not use the App apart from the ServiceNow Platform); or (h) circumvent, or provide or use a program intended to circumvent, technological measures provided by Vendor to control access to or use of the App.
3.4 The Apps availability is dependent on the ServiceNow platform. Limited customer support is available during the hours, and via the contact information, provided on Vendor on the ServiceNow Store. You may notify Vendor if the App is not performing in accordance with the App User Guide. Contact your internal 1st and 2nd level support, in case of issues not directly related to the App. ServiceNow will notify Vendor if the problem lies with the App and in that event the Vendor shall comply with the response and resolution times below. The support is restricted to 3rd level App inquiries only.
Support Hours of Operation: (including time zone): 8:00-17:00 CET
Support Days of Operation: Monday - Friday
Promised Issue Response Time: During the next business day
Promised Call Resolution Time: Within 5-10 business days of response
Contact Method: ins·pi Service Desk
Primary Contact: https://support.ins-pi.com
Secondary Contact: support@ins-pi.com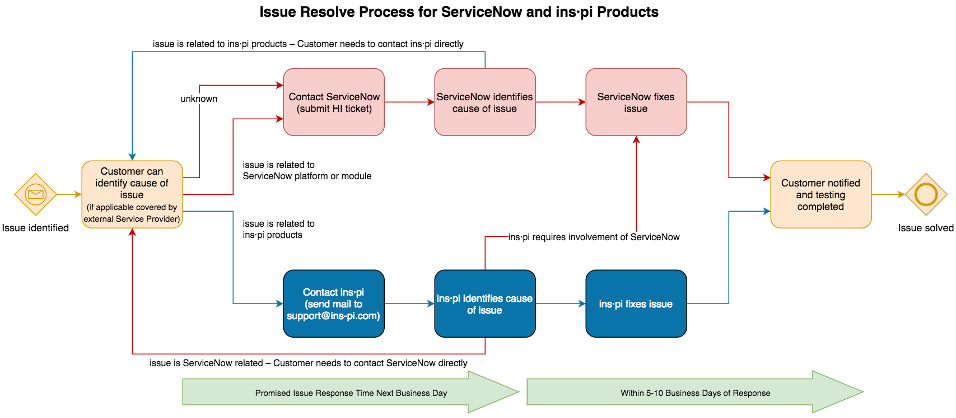 Procedure for obtaining technical support ("Logging a case")
3.5 To obtain technical support from Vendor, You are responsible for complying with the following procedure:
App user finds an Application-related problem and reports it to Your 1st and 2nd level support.
Your 2nd level contact takes ownership of the problem and attempts to find a timely solution, identifies the nature of the problem, including eliminating customer network, ServiceNow platform and non-Vendor application, plugins and configurations outside of the application scope as a possible problem cause.
Your 2nd level contact reproduces the error if possible and document the steps needed to do so.
Your 2nd level contact is unable to resolve the problem, contact activates technical support by logging a case, using one of the Vendor Contact procedures described above to provide the Application Handle, events that led up to the problem, the problem description, and your assessment of business impact of the problem.
Your 2nd contact describes to the Vendor the parameters, procedures and conditions resulting from the problem in sufficient detail to permit the Vendor to isolate the cause of the problem and commits appropriate resources to help isolating the problem.
Your 2nd level provides the Vendor with all data files, configuration and system access and sufficient rights, together with remote access, reasonably believed necessary by the Vendor to reproduce and analyze the problem. If the problem cannot be reproduced, no further action will be taken by Vendor.
Vendor will record delays. The cases below will not be counted in elapsed time:
Excessive delay in testing or deploying a proposed solution due to Your or Customer resource constraints.

Delay in supplying sufficient information by You to commence or continue problem resolution.

Not being able to remotely access Your System to resolve a problem.

If, with Your agreement a fix is deferred to a later patch Release; or a temporary fix is in place, the time to deliver the permanent fix is not included.
3.6 App Subscription and Support Services do not include installation, program development, coding, isolation of coding problems, training, assistance to or consulting or implementation of Your App on the System, customization of Vendor tools or integration of Vendor tools with Your systems. Data recovery services are not included as part of the Services, regardless of the cause of data loss. Support services are not a substitute for any formal education course and training. Vendor and You may plan and implement a training program to train Your Contacts, System administrators and users on the current revision of the App. Decommissioning and disposal of App configuration is not included as part of the Services. Support Services do not include onsite assistance.
Vendor shall not be obligated to provide Support Services if Defects are caused by or related to the following:
Your mishandling, abuse, misuse, or use of the App other than in accordance with Vendor's operating instructions;

use of the App with other software or ServiceNow releases that was not expressly specified in writing by Vendor as suited for use with the App;

changes to Your environment, in which the App was provided;

actions or omissions of persons other than Vendor;

repair of App by someone other than Vendor;

failure to implement all App Updates, App Releases, and other new upgrades and configuration changes of the App made available to You (provided, for the avoidance of doubt, that Vendor is not obligated to make available any minimum number of such new upgrades); or

Force Majeure conditions.

App that has been modified by someone other than Vendor, unless such modifications were directed or approved by Vendor in writing and made in strict conformance with all specifications and instructions provided by Vendor in such writing;

App that Vendor modified in accordance with Your request, specifications, or instructions; or

third-party products.

Vendor shall not be obligated to provide Support Services, except for the (i) most recent (Major or Minor) App Release and (ii) immediately preceding (Major or Minor) App Release for a period of twelve (12) months following the issuance of the next Major or Minor App Release, and only when used with Vendor specified configurations and Vendor recommended ServiceNow releases and internet browser versions. Vendor shall have no obligation to provide Services for any Software e.g. Chrome that has been superseded by a current release more than twelve (12) months prior to the then-current date.
3.7 The App product documentation is online available on the ins·pi website:

Vendor has the right to update and remove articles and functionality without notifying You.
3.8 The App is provided by the Vendor with a license within the Term, including the rights to run the App on a single authorized production instance of the ServiceNow Platform, and any number of non-productive instances associated with the production instance, including full product features and updates within the subscription period. The Vendor acknowledges that the App is provided not only to You but to Your affiliates (an affiliate being any entity that is directly or indirectly controlled by You) and to Your service providers to enable their provision of services to you, provided that You shall be responsible for ensuring compliance with the Agreement by such affiliates and service providers. Each end-user requires an Embedded Platform Runtime User License to use the App which needs to be purchased through the Vendor as part of the App. Additional production instances require an additional subscription license.
3.9 The App requires a supported version of the ServiceNow platform. At least following ServiceNow plugins with the minimum versions need to be activated on the platform: Configuration Management (CMDB) V1.1, Content Management V1.0.0, System (apps/system1), System (glidesoft), System Import Sets V1.0.0, Custom Reports 1.0.0, Text Index 1.0.0. The App is using Open Source software components which have been modified by Vendor. Further details can be provided on request. Access to source code by You is not permitted. The App may use further Open Source components or features embedded in the ServiceNow platform. Vendor provides the App without warranty, and disclaiming liability for damages resulting from using these components.
3.10 Your rights under Section (Subscription) are conditioned upon payment by You of the applicable subscription fees to Vendor (either directly or through the ServiceNow Store). Subscription fees are payable annually in advance. Fees are payable within 30 days of receipt by You of a valid invoice which includes the buyer code, if any, provided by You to Vendor. All fees are non-refundable and non-cancelable except as expressly provided in this Agreement and do not include sales and use taxes, value-added taxes, goods and services taxes, excise, business, service, withholding tax, shipping, or customs duties and similar transactional taxes and fees, all of which You are responsible for paying above and beyond the subscription fees due to Vendor. Fees not paid when due will accrue interest at a rate of two percent (2%) per annum over the base rate, applied as of the date of invoice. Failure to pay fees when due may result in the withdrawal of Your app from Your ServiceNow instance.
Warranty, Indemnity and Disclaimer of Warranty
3.11 Vendor warrants that: (a) the App and Vendor developed App components—excluding third-party libraries e.g. Angular, D3.js or similar—will perform in accordance with the User Guide and the ServiceNow certification results alongside the ServiceNow Platform; (b) the App do not contain any thing or device (including any software, code, file, program, worm, Trojan horse, virus or other similar things) which may (i) prevent, impair or otherwise adversely affect the operation of any of Your computer software, hardware or network, any telecommunications service, equipment or network or any other service or device; or (ii) prevent, impair or otherwise adversely affect access to or the operation of any program or data (whether by re-arranging, altering or erasing the program or data in whole or in part or otherwise); (c) use of the App by You in accordance with this Agreement will not adversely affect the performance of the ServiceNow Platform; and (d) the provision and use of the App in accordance with this Agreement will not infringe or contribute to the infringement of any third party intellectual property rights. The Vendor agrees to indemnify You and hold You harmless against any loss, liability, damage, cost or expense, including reasonable legal fees, arising from any claim that the provision and use of the App in accordance with this Agreement infringes the intellectual property rights of a third party.
EXCEPT AS SET OUT ABOVE, THE APP IS PROVIDED "AS IS" AND WITHOUT WARRANTY OF ANY KIND. VENDOR EXCLUDES AND DISCLAIMS ALL IMPLIED OR STATUTORY WARRANTIES, INCLUDING (WITHOUT LIMITATION) ANY WARRANTIES OF MERCHANTABILITY, FITNESS FOR A PARTICULAR PURPOSE, QUALITY, NON-INFRINGEMENT, TITLE, RESULTS, EFFORTS OR QUIET ENJOYMENT. THERE IS NO WARRANTY THAT THE APP IS ERROR-FREE OR WILL FUNCTION WITHOUT INTERRUPTION. YOU ASSUME THE ENTIRE RISK ARISING OUT OF THE PERFORMANCE OR USE OF THE APP. TO THE EXTENT THAT VENDOR MAY NOT DISCLAIM ANY WARRANTY AS A MATTER OF APPLICABLE LAW, THE SCOPE AND DURATION OF SUCH WARRANTY WILL BE THE MINIMUM PERMITTED UNDER SUCH LAW.
3.12 EXCEPT TO THE EXTENT THAT DISCLAIMER OF LIABILITY IS PROHIBITED UNDER APPLICABLE LAW, IN NO EVENT WILL VENDOR, SERVICENOW, OR ANY OF THEIR ITS RESPECTIVE AFFILIATES, LICENSORS, SERVICE PROVIDERS, EMPLOYEES, AGENTS, OFFICERS AND DIRECTORS BE LIABLE TO YOU FOR INDIRECT, SPECIAL, INCIDENTAL, CONSEQUENTIAL OR PUNITIVE DAMAGES (INCLUDING DAMAGES ARISING FROM LOSS OF REVENUE, USE, DATA, OR PROFITS, INJURY TO REPUTATION OR GOODWILL, OR THE COST OF SUBSTITUTE GOODS OR SERVICES) WHETHER SUCH DAMAGES ARISE UNDER CONTRACT, TORT (INCLUDING NEGLIGENCE OR STRICT LIABILITY), OR ANY OTHER LEGAL THEORY, AND EVEN IF SUCH DAMAGES ARE FORESEEABLE. IF, UNDER APPLICABLE LAW, LIABILITY FOR DIRECT DAMAGES CANNOT BE EXCLUDED (NOTWITHSTANDING THE FOREGOING), THEN THE TOTAL CUMULATIVE LIABILITY OF VENDOR (OR ANY OTHER PERSON) IN CONNECTION WITH THIS AGREEMENT AND THE APP, WHETHER IN CONTRACT, IN TORT (INCLUDING NEGLIGENCE) OR OTHERWISE, WILL NOT EXCEED THE GREATER OF US$100.00 OR THE AMOUNT OF FEES (IF ANY) THAT YOU PAID TO VENDOR IN ANY PREVIOUS 12 MONTH PERIOD. THE EXISTENCE OF MULTIPLE CLAIMS WILL NOT EXPAND THIS LIMIT. YOU ACKNOWLEDGE THAT THE FEES REFLECT THE ALLOCATION OF RISK SET FORTH IN THIS AGREEMENT AND THAT VENDOR WOULD NOT ENTER INTO THIS AGREEMENT WITHOUT THESE LIMITATIONS ON ITS LIABILITY. TO THE EXTENT PERMITTED BY APPLICABLE LAW, SERVICENOW WILL HAVE NO LIABILITY TO YOU, WHETHER IN CONTRACT, IN TORT OR OTHERWISE UNDER THIS AGREEMENT OR IN RELATION TO THE APP. THE LIMITATIONS AND EXCLUSIONS OF LIABILITY IN THIS SECTION WILL APPLY EVEN IF AN EXCLUSIVE REMEDY UNDER THIS AGREEMENT HAS FAILED OF ITS ESSENTIAL PURPOSE.
3.13 The term of Agreement ("Term") will commence upon interaction of the App with Your ServiceNow instance(s) and will remain according to chapter 3.2; thereafter the Term shall automatically terminate unless actively renewed by You, subject to payment by You of applicable subscription fees, unless Vendor notifies you in writing of its intention not to renew at least 30 days prior to expiration of the then-current Term. The Parties shall negotiate the pricing for any renewal term in good faith. Not less than 45 days before the expiration of any renewal term the Vendor shall provide Customer with a quotation de-tailing the pricing for the subsequent renewal term. Where the Parties were not able to agree on a pricing for a renewal term or in cases of automatic renewal as described above, the pricing during any renewal term shall not increase by more than 10% above the applicable pricing in the prior term, irrespective of the length of any applicable renewal term. You may terminate this Agreement at any time and for any reason by giving written notice to Vendor latest (30) days before the intended date of termination; provided, however, that You will not be entitled to a refund of any fees paid hereunder except as set out below. Vendor may terminate this Agreement, effective immediately upon written notice to You if You: (a) fail to pay any portion of the subscription fees when due and fail to cure such non-payment within thirty (30) days after receipt of notice of same; or (b) if You otherwise breach any provision of this Agreement and fail to remedy such breach within 30 days after receipt by You of written notice from Vendor. Upon expiration or termination of this Agreement, Your rights to use or access the App terminate, and the App must be removed from Your instance of the ServiceNow Platform. Section 3.1, 3.5-3.9 and 3.13-3.23 will survive expiration or termination of this Agreement for any reason.
3.14 This Agreement is governed by the laws of The Federal Republic of Germany under the exclusion of the UN Convention on Contracts for the International Sale of Goods of 11 April 1980 (CISG) and the German conflict rules, without giving effect to any choice of law principles that would require the laws of a different country or state. In case of disputes arising from or in connection with this Agreement or regarding its validity, the exclusive legal jurisdiction is Cologne, Germany. Any legal action between You and Vendor arising out of this Agreement or Your use of the App must be instituted exclusively in the German courts, and You consent to jurisdiction and venue in such courts. The United Nations Convention on Contracts for the International Sale of Goods and the Uniform Computer Information Transactions Act (USA) do not apply to this Agreement.
3.15 You will comply with all applicable export and import control laws and regulations in Your use of the App and, You will not export or re-export the App without all required government licenses. Regardless of any disclosure made to Vendor of an ultimate destination of the App and accompanying technical documentation, You acknowledge that all such materials are being released or transferred to You in the United States and may be subject to U.S. export control laws and regulations including regulations of the U.S. Bureau of Industry and Security. You will defend, indemnify, and hold harmless Vendor and its licensors, suppliers and resellers from and against any violation of such laws or regulations by You.
3.16 If You are a branch or agency of the U.S. Government, then You acknowledge that the App is a "commercial item" as that term is defined at 48 C.F.R. 2.101, consisting of "commercial computer software" and "commercial computer software documentation" as such terms are used in 48 C.F.R. 12.212. Any technical data provided with such App is commercial technical data as defined in 48 C.F.R. 12.211. Consistent with 48 C.F.R. 12.211 through 12.212 and 48 C.F.R. 227.7202-1 through 227.7202-4, and 48 C.F.R. 252.227-7015, all U.S. Government end users acquire the App with only those rights set forth in this Agreement.
Relationship Between the parties
3.17 The parties are independent contractors neither party is the agent, partner, employee, fiduciary or joint venturer of the other party under this Agreement.
3.18 Neither You nor Vendor may assign or transfer, by operation of law or otherwise, any of Your or Vendor's rights under this Agreement (including Your licenses with respect to the App) to any third-party without the other party's prior written consent which will not be unreasonably withheld. Any attempted assignment or transfer in violation of the foregoing will be void.
3.19 This Agreement is in the English language and its English-language version will be controlling over any translation, except and to the extent when required by applicable law.
3.20 Except as otherwise provided herein, the parties' rights and remedies under this Agreement are cumulative. You acknowledge that the App contains valuable trade secrets and proprietary information of Vendor and its suppliers, that any actual or threatened breach of this Agreement by You will constitute immediate, irreparable harm for which monetary damages would be an inadequate remedy, and that injunctive relief is an appropriate remedy for such breach. If any legal action is brought to enforce this Agreement, the prevailing party will be entitled to receive its attorneys' fees, court costs, and other collection expenses, in addition to any other relief it may receive.
3.21 All waivers must be in writing. Any waiver or failure to enforce any provision of this Agreement on one occasion will not be deemed a waiver of any other provision or of such provision on any other occasion.
3.22 If any provision of this Agreement is held unenforceable by a court, such provision may be changed and interpreted by the court to accomplish the objectives of such provision to the greatest extent possible under applicable law and the remaining provisions will continue in full force and effect. Without limiting the generality of the foregoing, You agree that Sections 3.7 and 3.8 will remain in effect notwithstanding the unenforceability of any other provision of this Agreement.
3.23 This Agreement constitutes the final and entire agreement between the parties regarding the subject of this Agreement and supersedes all prior or contemporaneous agreements, understandings, and communication, whether written or oral. This Agreement may be amended only by a written document signed by both parties. The terms of any purchase order or similar document submitted by You to Vendor or ServiceNow will not be effective to alter the terms of this Agreement.