Get FREELUCY, Try Designer, Try UPM-X

for FREE
Choose the solution that fits your needs best. And do not forget to book your JAM session with your ins-pi team.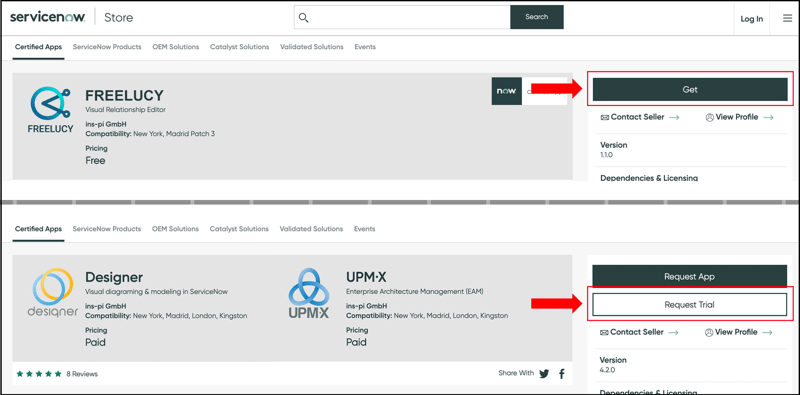 Click one of the buttons above to navigate to the ServiceNow store.
Click the

"

Get

"

button for FREELUCY, or

"

Request Trial

"

button for Designer & UPM-X in the ServiceNow store.
Login with your ServiceNow HI-Account credentials.
After ins-pi's approval of your request, you can select a non-productive instance to install the trial. There is no approval required for the FREELUCY application!
IMPORTANT NOTES:
The trial version can only be installed on non-productive instances associated with your companies ServiceNow HI-Account.

We do not support installation on personal development instances.

You can try the applications with your data.

ins-pi has no access to your instance or data.

The trial is cost-free and starts with the installation date.
Prerequisites — Check Your Instance Settings
Before you start the trial installation of any application, please ensure that the maximum file attachment size is set correctly.
MAXIMUM FILE ATTACHMENT SIZE:
Go to

System Properties > Security > Maximum file attachment size in megabytes and set to > 500 MB
IMPORTANT NOTES:
The application is downloaded as a ZIP file from the ServiceNow store. The installation can not be performed, if the maximum file attachment size too small.
Install Application
To install the application from Madrid onwards:
Log in to the ServiceNow instance on which you want to install the app.
Navigate to

System Applications > All Available Applications > All

.
Search for the app you want to install.
Click on

Install

. The application is automatically installed onto your instance.
NOTE: You can select the option to 'Install with Demo Data' which will install the application with demo content.
IMPORTANT NOTES:
The installation is completely hands-free.

The demo data contains example content to get quickly started.
Setup a free JAM Session for Designer & UPM-X
To gain maximum value of the trial period, we recommend setting up a free JAM session. Ideally, this should happen at the beginning of the trial period.
The JAM session will provide you:
the ability to ask questions,
review your use-cases,
deep-dive into features & functionality of the applications, and
discuss next steps.
IMPORTANT NOTES:
The JAM session or the User Guide are not replacements for a training session!