7 min read
Now on Now: Webcast highlights
By: ins-pi on Jun 24, 2021 9:33:20 AM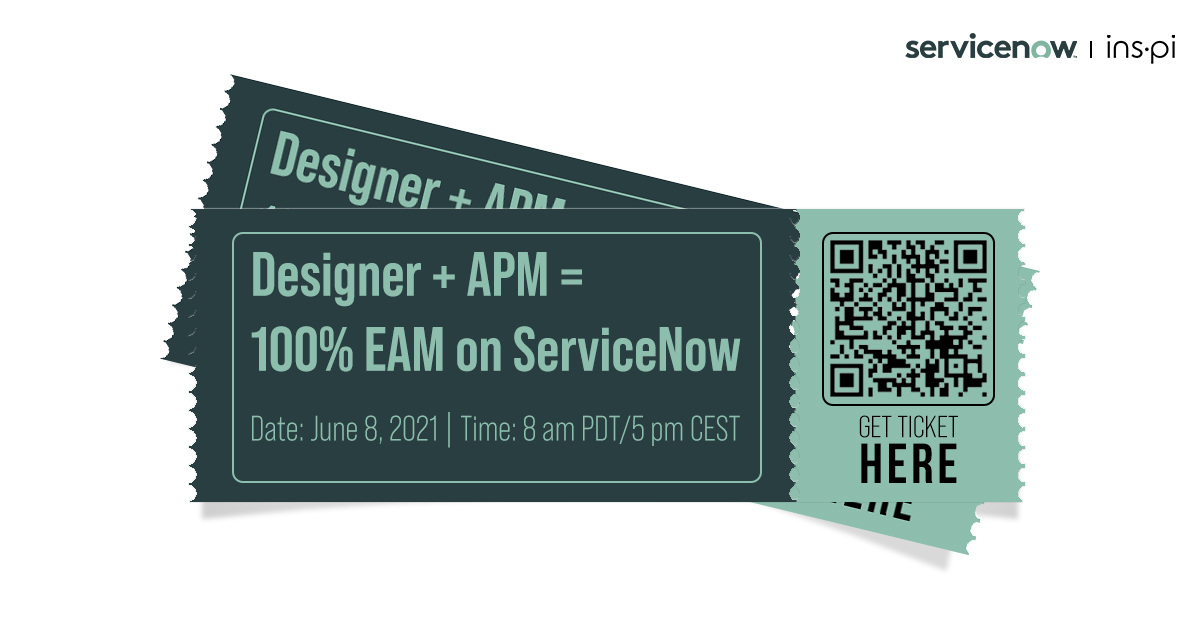 Did you miss ins-pi's latest webcast in partnership with ServiceNow? Don't worry, we've got you covered! In this article we will go through the highlights of the event where they talk about using Designer in their day-to-day operations.
Now on Now
For those of you that don't know what Now on Now is, it's the ServiceNow internal initiative to maximum leverage the ServiceNow platform to support their processes. This recent success story of ServiceNow using APM and ins-pi Designer to improve visibility and business alignment, increase productivity, and optimize IT spend demonstrates the platform capabilities in combination with ins-pi's 100% Built on Now applications.
APM + Designer
Many people already know APM – Application Portfolio Management – a tool that was developed by ServiceNow and a great way to manage your application portfolio. What EA experts already know, but those still diving in the ServiceNow universe don't, is that there are applications that can boost your EA capabilities within the platform. One of those applications is Designer, developed by ins-pi. This is the tool that was the center of this Now on Now webcast and that is being praised by EAs within ServiceNow.
In the beginning of the webcast, Simon Howard (Senior Partner Manager at ServiceNow) stressed that ins-pi has been a ServiceNow partner for over 5 years and that the EA tech company has been one of the ServiceNow's most successful partners so far.
Next, Kadir Özbayram (senior partner at ins-pi) gave us an overview of the Designer application. As he said, "Designer is a real-time modeling and diagraming solution, similar to Visio, but 100% built on the ServiceNow platform".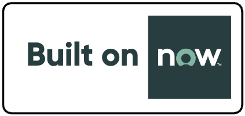 But "What does it mean 100% built on the ServiceNow platform?", you may ask. It means that you need minimum effort to install it and use it in your ServiceNow instance. You don't need any other systems or integrations, it works directly on top of the ServiceNow platform. This means, minimum effort and maximum security. Ready to be used as soon as you install it! With ins-pi's Designer solution you can access any data within the ServiceNow platform and create models and diagrams based on live data.
Kadir also highlighted, "Designer is the only available solution on the market, which enables ServiceNow with future state planning capabilities."
He went on to further explain another possibility within the tool, which is creating hierarchy maps based on live information within the platform and color them automatically based on real-time indicators.
And this was the real focus of this webcast. Jaydeep Marathe (Head of the Enterprise Architecture Center of Excellence at ServiceNow) gave the public a high-level presentation on how ServiceNow's EA team uses the Designer tool successfully for capability-based planning internally. Jaydeep started his presentation telling the audience the following story:
He shared that last year his EA department started their capability-based planning efforts. With the help of his "partner in crime" John Wiesner, he created a toolkit for capability-based planning. Together they did an assessment of their state in terms of business capabilities. Continuing, Jay said that at the time, ServiceNow was going through a major financial transformation initiative and they hired a key consulting firm to help them out. However, when they arrived, they wanted to access ServiceNow's existing capabilities. Because of the Designer tool, ServiceNow was able to give all of the necessary information straight away. As Jaydeep said, "We've already achieved this and then we (just) handed them over our scores and our heat maps that were generated. And that saved us 6 to 8 weeks of effort on that consulting engagement. So that's that a really good story that I want to start with."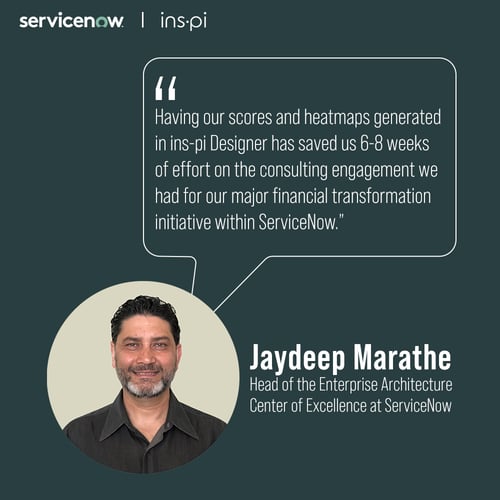 After moving forward and telling a bit about the history of ServiceNow and ins-pi's partnership, he went on sharing how ServiceNow is using a combination of ins-pi and ServiceNow tools:
"First of all, as you all know, APM has the capability hierarchy, so we have now all of our capability in managed, including the meta data, including some fields that we added, in order to have proper indicators in APM. We also use the business capability maturity assessments that are directly built out from the basic platform assessment feature. The models themselves, we render them using ins-pi and of course we use real-time indicators in order to generate heatmaps."
Continuing, he explained what leads up to capability-based planning:
"Capability-based planning, in my mind, is a technique used by enterprise architects and business architects to enable a data driven approach to IT and business investments. The pivot here is around business capabilities then maturity, and the priority, in order for us to be able to mature that capability for the company, depending on four key parameters: people, process, technology and data."
And here, dear readers, is where you find the pure gold of this webcast. ServiceNow's head of EA went on to clarify how to get there with the planning:
"The first part of course is the model creation. The creation of the business model itself, which as I said we've already created in APM. Then we render those models and I'll show you in just a little bit how we render them using ins-pi. The next part is for every major capability, and … we went through all of the owners of those capabilities and went to do workshops, in order to assess – do a bottom's up assessment of the capability maturity, alongside people, process, technology and data dimensions. Once again, this was enabled directly using the ServiceNow assessments feature.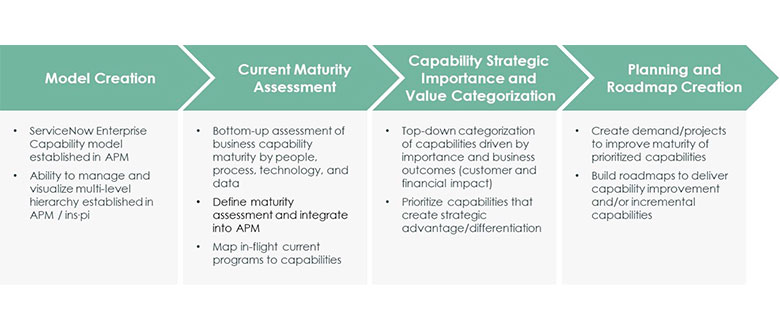 Next, we also do a top-down categorization effort. Now, the value categorization, once again, what we've provided is a template in ins-pi, with the capabilities and the heat map capabilities available for the planners to drag and drop, along quadrants on a graph that has a business impact and financial impact on the X&Y axis; and it helps the planners put those capabilities in various quadrants, that talk to essentially:
Does this capability give us market advantage?

Is it an enabling capability?

Is it a foundational capability?
That helps them categorize and prioritize what they want to work on. So that prioritization, along with the heat map: so if there's a red capability, or a capability that is immature, that is in the competitive advantage quadrant, that's an automatic indicator to the planners to say: hey, this needs attention! Furthermore, we can use indicators to actually render the same capabilities and the heat map colors on people, process, technology and data. So that helps us get into the next aspect, which is: program design. And that program design is then determined, or we create projects based on which capabilities we want to mature along which dimensions, plus it helps us create a road map to say: this capability that looks yellow or red today, needs to be in the green by the time we hit 2022. And that's in a nutshell or a summary of how we use capability-based planning."
Jaydeep continued:
"In terms of the maturity assessment, here is what we used in order to score our business capabilities. Again, as I mentioned earlier, it's people, process, technology and data. We weighted them equally at this point, but once again with a little bit of customization you can even assign different weights. But we wanted to keep it simple, at this point. From the people perspective, once again, do we have the correct resources or the adequate skills in order to support that capability process, or we look for is not just whether there is a documented process, but:
Is it optimized?
Can automation be used on this?
Technology?
Of course, the key question here is you may have technology on there, but is it meeting your other business requirements? And those are the key questions that need to be answered here.
You can also see that we were paying very careful attention to data and insights. So 10% of their weightage is on data management, which is:
Access to the data
The quality of the data
All the support level parts of the data.
The rest of it is, how much of that data is used to generate insights? How much of that data is leveraged today for building models and machine learning and improving the quality or the majority of that capability. "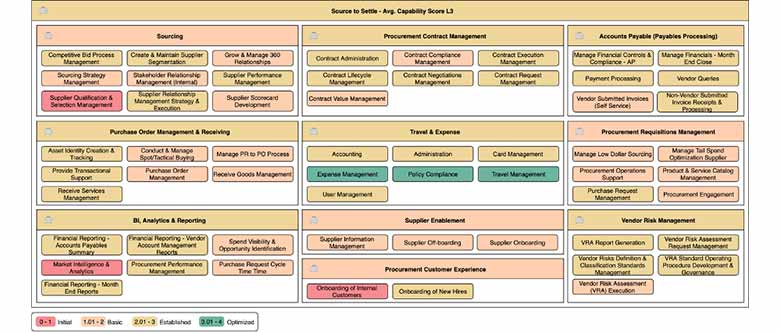 He wrapped up the success story with a demo of the Designer tool. Jaydeep showed the main Designer usage possibilities and also how simply it is to build heat maps, that shows all your business capabilities and how you can link the information to build a heat map. And from there how you can follow what is going on with your business and assets - all in real-time!
If you want to see and feel everything that Jaydeep demonstrated within the Designer app, you can book a demo with ins-pi here. In case you want to learn more about ins-pi and our product, feel free to contact us directly.
The webcast is still available via this link.